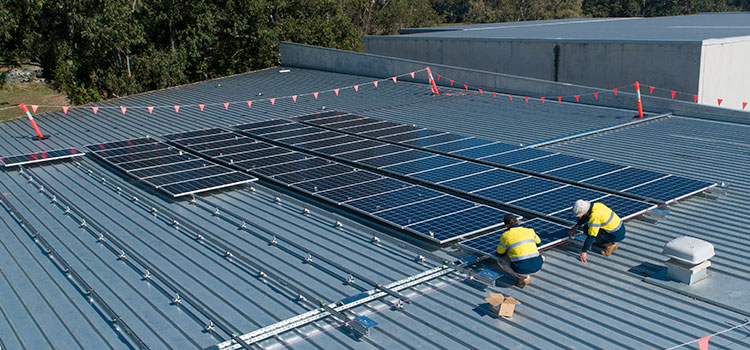 COMMERCIAL SERVICE & MAINTENANCE + ASSET MANAGEMENT
Enjoy Ongoing Service & Maintenance Throughout Your Solar Panels Ownership Journey
Preventative Maintenance is only one way to manage your Asset
The solar industry has long focused on solar PV panels and solar inverters as the measure of quality, however, if you want peak performance and power generation for 25+ years, proper maintenance is essential. You certainly don't want to find out your solar panel system has failed you midway through the billing cycle and receive a shock next time you see your power bill.
Maintenance Specialists
Just like maintaining a vehicle, maintaining a solar power system is vital to keeping it running reliably and for the full duration of its expected lifespan. We will perform comprehensive system audits, repairs and regular maintenance services on existing systems, regardless of the original installer.
So if your premises has an existing solar panel system installed, and there is no maintenance history, let us check it for you. We will compile a comprehensive report on condition, components and test for efficiency. If necessary, we will conduct repairs and maintenance to ensure you don't have to go through the stress of sudden system failure.
At Solar Service Guys, we are committed to providing a range of ongoing services to ensure your solar system performs at its peak every day. Our areas of specialty range from providing energy monitoring, system performance review, solar panel repairs, solar panel maintenance, solar panel cleaning and more throughout Sydney, Melbourne, Brisbane and Adelaide.
We are experienced in solar panel repairs and rectification and can assist with solar PV warranty claim applications, regardless of the original installer. We offer our clients an Annual Preventative Maintenance Plan, which is aimed at a worry-free, scheduled annual visit to check your solar system – making sure your system is something you don't have to think about.
Cost-Saving Benefits Of A Well-Maintained Solar System
Most people have been told that a Solar System will work for 25yrs. However, what many companies neglect to explain, is that solar system longevity is only possible with ongoing system maintenance.
The Most Common Solar Service Issues We Diagnose & Repair
● Faulty Inverter
● Lack of Performance and Financial Return
● Poor Workmanship
● DC Isolators
Benefits include a longer life for your key components; more consistent energy generation and therefore more consistent savings; and fewer call-out fees to fix simple faults that can shut down your system.
Be Sure To Ask About Our Cost-Effective Preventative Maintenance Plan
Solar Service Guys believe that in order to maximise your system's performance, ongoing maintenance should be carried out at least every 12 months.
CONTINUOUS MONITORING