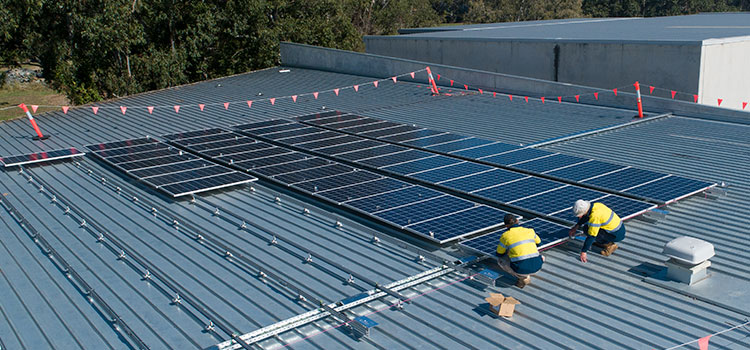 COMMERCIAL SOLAR EXPERTS
The Commercial Solar Installer Who Will Be There to Support your Solar System for the Long Term
Investing in a commercial solar installation for your business is not only about harnessing clean solar energy from Australia's abundant sunshine, it's also about saving money on your power bills, which boosts your bottom line, freeing up cash flow to make room for business growth or improvement.
To achieve these goals, we believe the best solar panel systems require highly experienced, qualified commercial installers who use high-quality solar components and help to regularly maintain your system over time.
Whether you are starting from scratch or already have the components, we can perform any size system installation for you. All our installers are licensed electricians who are Master Electrician Gold Licence Members, giving you peace of mind that your commercial solar installation will be correctly managed, maintained and optimised using best practices.
Aside from high-quality installation, we only offer products that meet our three criteria:
● Globally Reputable Technology
● Local Sales & Support Office
● Fast & Efficient Communication
Are all Solar Systems the Same?
Solar PV systems are comprised of a few key components — solar panels, connected to a solar inverter, which is then connected to the switchboard and meter.
The key components are mass-produced by manufacturers and while these need to be chosen carefully with high quality and longevity in mind, in our experience, the installation workmanship of these components is equally as important. Our specialty team of qualified electricians are 100% reliable in delivering the most cost-efficient, energy-efficient commercial solar system for your business.
Yes, it's all about price! But let's look deeper.
It's a common reality when buying anything that we look for a good price. Quality solar power systems are no exception. But in many instances, those who offer a cut-price cost also choose lower-cost components or cut corners during installation. Both of these typically attract higher repair and replacement costs down the line, costing you more in the long run.
Solar Service Guys will listen carefully to your needs and select the best solutions possible based on your current and future requirements. We present you with the best possible value for money, taking into account your available budget.
It is strongly encouraged that you conduct research over and above the technical differences between products and always explore what the warranties cover, and how the after-sales support and service process works.
The reality is if you don't understand the differences, then the 'cheap system' you bought today may become the most expensive you will own.